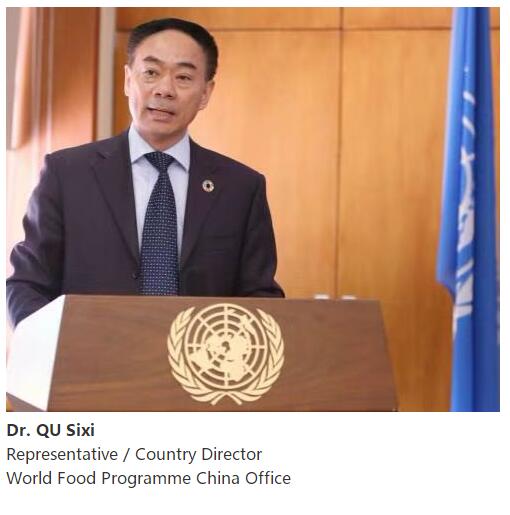 We are living in a world of worsening hunger, malnutrition and food insecurity. In recent years, food crises are becoming increasingly protracted due to economic downturn, conflict and climate change, while the COVID-19 pandemic exacerbates global food insecurity.

Against this backdrop, South-South Cooperation proves to be an indispensable mechanism to bring concerted efforts to safeguard food security and nutrition for all. South-South Cooperation helps to accelerate country-led progress towards the Sustainable Development Goals by mobilising, sharing effective and proven innovations and solutions from developing countries.
The WFP China Centre of Excellence for Rural Transformation (WFP China COE) has been paying efforts to facilitate South-South and Triangular Cooperation since 2016. To achieve progress towards the UN Sustainable Development Goal 2 for Zero Hunger and Goal 17 on Partnerships, WFP China COE strives to share with other developing countries China's valuable experiences and expertise in four major areas, namely, smallholder value chain development, post-harvest loss management and food systems, climate change resilience, and innovation in poverty reduction at policy, technical, and field levels.
In advancing South-South and Triangular Cooperation, WFP China COE underscores the critical importance of knowledge management as a key pillar. With the rapid evolution of novel technologies, digitalisation has become the most important vehicle for knowledge development and exchange. Digital transformation of knowledge management has an advantage to connect developing countries despite geographic locations and time differences. The enabling role of digital tools and technologies for South-South Cooperation knowledge sharing has become even more manifest in the era of global pandemic.
As a response, WFP China COE unveils the WFP-China South-South Cooperation Knowledge Sharing Platform as an institutional space to share solutions and to boost peer-to-peer learning while connecting each other for food security, nutrition improvement, climate change resilience and poverty reduction. The function of the Platform is extended by the WFP-China South-South Cooperation Knowledge Cloud School, which enables systematic, tailored and remote learning processes.
Through these efforts, we hope that the Platform and the Cloud School will make the Chinese experiences and expertise more accessible. In the long run, WFP China COE is dedicated to continuously leveraging digitalised tools along with other emerging technologies to meet the challenges as we keep strengthening South-South Cooperation.
Let's join hands to learn, share, and congregate a global momentum towards the achievement of SDG 2 and 17 through South-South Cooperation.