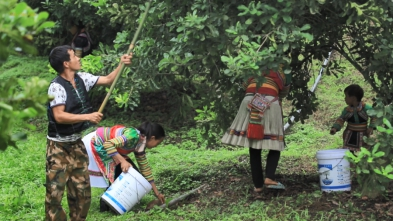 Villagers pick macadamia nuts in Lincang City, Yunnan Province.
Situated on the middle to lower reaches of the Lancang River in southwest China, Lincang City, Yunnan Province, is a charming locale with a pleasant climate, scenic mountains and an atmosphere of abundance. Its macadamia orchards currently cover the most land of any city in the world, which contributed to all of its eight counties having been able to escape from poverty as of May 2020 and has contributed to it continuing to become more prosperous.
Yang Zhixue has been working at a macadamia plantation near his residence in Tianba Village, Nansan Town, Zhenkang County – a typical Lincang hamlet – for eight years and earns over RMB6,000 a month as of 2020, which is not far off from a white-collar salary in Kunming, Yunnan's capital. The farmer lives in a two-storey home that he had constructed near Tianba's front entrance and has three children at present.
A graduate of Hainan Province's former South China University of Tropical Agriculture, which has since merged with Hainan University, named Chen Yuxiu began making trips to various parts of Lincang after getting a job at a cereals, oils, and foodstuffs import and export corporation in Yunnan in 1986. She dreamed of helping the residents of the city's remote mountainous areas make sustainable changes to their lives after discovering that most of them lived in low thatched huts, earned a few hundred RMB a year, did not have enough clothes for their kids, might only be able to afford schooling for one child, and could generally not afford necessary healthcare for the elderly.
A few years later, a team co-led by Chen launched a macadamia farming pilot project in Yunnan and imported 300,000 economically valuable macadamia seedlings that were suited to the area, can be harvested once a year as long as they bear fruit, and have a productive period of up to 70 years, enabling them to benefit two to three generations of people. The variety takes eight years to produce nuts, and demand and sales were unclear, however; so no one wanted to replace their sugarcane with the tree.
Chen eventually came up with a plan to address the situation. Sugarcane would be intercropped with the seedlings so that farmers could continue to earn basic income before the trees began bearing fruit. She also provided easy-to-read handbooks that explain how to take care of the trees. Experts later helped introduce new seedlings capable of bearing fruit in three to four years. A large factory capable of processing 10,000 tonnes of fresh macadamia nuts per year came online in 2014 as well, which made potential growers feel more confident about sales prospects, and more and more of Lincang's villagers began getting involved in the industry.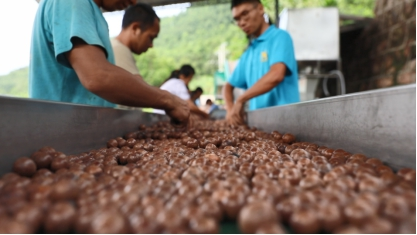 Workers remove bad nuts from a macadamia sorting line.
Chen explained that macadamia orchards are capable of producing around 300 kg of fresh shelled nuts per mu per year during their peak fruiting period if the right varieties and methods are utilised and that this can result in an average of RMB6,000 of income for growers as of late 2014. The evergreen trees are also resilient, use water in an efficient manner, can sequester carbon from the atmosphere, and have other sustainable and environmentally friendly qualities.
At first the nuts were mostly sold to buyers in places like the Europe and the U.S. Chen eventually launched a store on Alibaba's Tmall e-commerce platform in 2019 in order to help the people who are engaged in Lincang's macadamia industry take advantage of the growing demand for the nut in China and generated more than RMB1 million of revenue during its first year.
Tmall also partnered with the China Nuts Association and top nut merchants during the 2019 Chinese Farmers' Harvest Festival – the second iteration of an annual event that takes place on the mid-autumn solar term of China's 24-term lunar calendar and is designed to help farmers boost their incomes – and sold 60 tonnes of Lincang nut products in a day, resulting in over RMB5 million of revenue.
The number of Yunnan nut merchants on Tmall doubled from June 2019 to September 2020, and sales of macadamia nuts produced in the province soared by 50% year-on-year on the website during a weeklong nut promotion that was launched during the 2020 Chinese Farmers' Harvest Festival.
Wang Yongneng, manager of a Tmall store that sells Yunnan nuts, mentioned that Alibaba's big data platform enables him to make adjustments and innovations in a timely manner based on users' preferences and noted that it is much better than the limited information that he got from distributors prior to using the platform. He was able to sell 60,000 boxes of a newly designed product through his Tmall store during the Spring Festival holiday in late January 2020 – a feat that would have taken him a year in the past.
Factors such as selection of a species and varieties that are well-suited to the local environment, careful management, provision of training, and utilisation of e-commerce made it possible for Lincang's macadamia industry to successfully take root and expand. Locales that want to reduce poverty and become more prosperous in a similar fashion may benefit from taking a look at Chen's story.
For more information, please contact WFP China COE (wfpcn.coe@wfp.org)
Category
Macadamia Farming and E-commerce Enrich Lincang Villagers
Contributor
Macadamia Farming and E-commerce Enrich Lincang Villagers
Country
Story